TISSUE CASES 6
This set is for the 5x7 hoops.
Made entirely on the embroidery machine.
One hoop. No other sewing!
A very easy and quick little gift.
Made to fit purse size tissue packages.
Full detailed instructions with pictures included.
Note the construction method is different with this set from set 1 and 2. The satin stitch edge has been replaced with a folded edge. Only have a 4x4 machine? Set 3 is for the smaller hoops.
All you have to do is lay strips of fabric over stitched guidelines.
Above shows what you can do by adding lace and trims.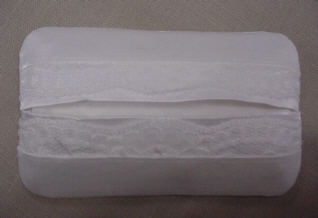 For the one above I used satin and lace.
Perfect for the bride or mother of the bride.
---
---
Be sure to see all of my Tissue Cases.
Tissue Cases 1 Tissue Cases 2 Tissue Cases 3
Tissue Cases 7 Tissue Cases 8 Tissue Cases 9
Tissue Cases 10 Tissue Cases 11