FREE EMBROIDERY DESIGNS
The embroidery designs on this site are copyrighted and are intended for the personal use of the individual downloading it. Reproduction or distribution of these designs, to any third party is strictly prohibited. The designs may be used in the production of goods for resale. If you would like your friends to have the designs, please send them to my site. Thank you for your cooperation.
THERE ARE MORE FREE EMBROIDERY DESIGNS ON MANY OF THE DESIGN SET PAGES!
SCROLL DOWN FOR LIST.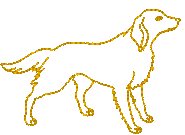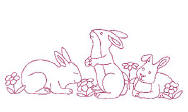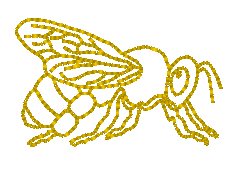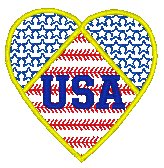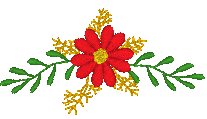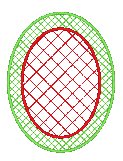 All of 2001 Eggs in one zipped file on the Pic Poc 6 page.
2002 EGG HUNT HINTS
Egg 1 One Bunny with a Bag of jelly Beans.
Egg 2 Oh what a doll X 5.
Egg 3 A little Bow Wow.
Egg 4 A small Bunny with a Bag of Jelly Beans.
Egg 5 A sweet Stuffy.
Egg 6 You could put 4 eggs into one of these.
Egg 7 Here Kitty Kitty.
Egg 8 1 little Baby bear.
Egg 9 2 little Baby Bears.
Egg 10 3 little Baby Bears.
Egg 11 Something to put your eggs in.
Egg 12 Wishing you a Beary Happy Easter.
Egg 13 3 Very stuffed bears.
2003 EGG HUNT HINTS
2003 EGG 1- These are good for just a little cry.
2003 EGG2- For when you just cry and cry and cry and cry.
2003 EGG 3- A dozen Bunnies "standing" in a row holding eggs.
2003 EGG 4-A fat little bunny wishes you Hoppy Easter!
2003 EGG 5-Something to put your 5 favorite eggs in.
2003 EGG 6-You might need your glasses to find this one.
FREE EMBROIDERY DESIGNS
There are FREE EMBROIDERY DESIGNS on most of the design set pages. Below is a list of some of the FREE EMBROIDERY DESIGNS on my site.
Dog Stockings small golden retriever
Cat Stockings small cat
Booties Bear head
Large stockings 4 2002 egg6
Large Stockings 5 heart and leaves motif
Large Stockings 7 4x4 stocking sample
Large Stockings 9 2003 snowflake 6
Large Stockings 10 2003 snowflake 1
Large Stockings 11 small boot design with stars
Large Stockings 12 flower vine
Large Stocking 13 tiny holly motif (outline)
5x7 Mittens 1 small poinsettia
Mini Stockings 1 free stockings sample
Mini Stockings 6 2003 snowflake 2
Jumbo Stockings 2 noel
Jumbo Stockings 3 noel
Jumbo Stockings 4 small boot design
Jumbo Stockings 6 Applique Fish
Hats 1 2003 snowflake 3
Candy Cane Toppers 1 appliqué candy cane
Candy Cane Toppers 2 freestanding appliqué candy cane ornament
Bunny Pouches tiny bunny
Easter Egg Stands 2003 egg 3 & 2002 egg 11
Bear Egg Stands egg 12
Pot Huggers 1 flower
Pot Huggers 2 butterfly
Jar Huggers 1 Kitty Cane catnip cat toy
Jar Huggers 3 wheat and bow
Tab hangers 2 butterfly
4x4 Tab Hanger 1 heart
Coasters 1 shell
Coasters 2 fern
Coasters 3 2003 snowflake 4
Coasters 4 midnight clock
Coasters 5 4th star
Coasters 6 Designated Driver Pin Project
Coasters 7 Fern
Napkin Rings 3 motif
Napkin Rings 5 row of ants
Baskets 1 2003 snowflake 10
Baskets 2 heart
Baskets 3 2003 snowflake 8
Baskets 4 round heart frame
Baskets 5 2003 egg 5
Baskets 6 spider web
Baskets 7 2003 snowflake 5
Baskets 8 appliqué hat
Baskets 9 appliqué double heart
Tissue cases 1 motif
Tissue Cases 2 motif
Tissue cases 3 plaid heart 2003 egg1
Tissue Case 4 2003 egg 2
Tissue Cases 5 flower oval
Tissue Cases 7 2004 Egg #2
Post It Cases 1 small frame
Post It Cases 2 small frame
Post It Cases 3 small motif
Mini Post It Cases quilt basket
Card Cases 2 flowers
Eyeglass Cases 1 patriotic bow pin
Eyeglass Cases 2 2003 egg 6
Eyeglass cases 3 small pair of glasses
Eyeglass Case 4 buttons
Eyeglass Case 5 small frame
Eyeglass Case 6 small frame
Memo Covers 1 floral motif
Memo Covers 3 heart scroll
Wipe Your Paws dog bone frame & mouse frame
Picture Ornaments 2 2003 snowflake 7
Scissor Cases 1 tiny scissors & 2003 snowflake 9
Scissor Cases 2 flower
Towel Toppers 1 motif
Tiny Toppers1 golf crest
Pic Poc 6 all 2001 eggs (11)
Large Pic Poc shamrock frame
Puppy Pic Poc dog paw
Cat Pic Poc cat outline
Frame Covers 3 2004 Egg #3
Frame Covers 4 flowers
Cosmetic Cases 1 flowers
Scrap Bags appliqué poodle
ID Cases square motif
Brag Books 1 swirl motif
Brag Books 2 flower and vine
Brag Books 3 tiny mouse
Cell Phone Cases 2 scroll heart
Draw-String Bags 4 satin heart
Draw-String Bags 5 heart motif
Draw-String Bags 6 bunny frame
Drawstring Bags 9 trio of flowers
Drawstring Bags 11 quilt square
Book Covers 1 scroll
Book Covers 2 line of flowers
Memo covers 6 scroll
Memo Covers 4 praying hands (outline)
Funpad Covers 1 wreath
5X7 Purses sample motif
Zippy Organizer 1 bow circle
Zippy Organizer 2 heart and vines
Jumbo Purses 1 flower
Danglers 2 appliqué heart
Note holders 3 flower
Draw-String Bags 7 applique tulip
Egg Stands 4 flower
4X4 Egg Poppers bow
Scissor Cases 4 Quilt square frame
Wallets 1 Appliqué Oval Monogram frame
Wallets 2 Flowers
Coin Purses 1 Row of flowers
Coin Purses 2 Trio of flowers
Danglers 3 Fish Hooks 3 sizes
Note Holders 4 Don't forget hand with string
Note Holders 5 Tiny Paintbrush
Pudgies 5 Appliqué snowman ornament
Jumbo Bears Halloween Costumes 1 Music Notes in 3 sizes
iPod Cases 1 Music Notes in 3 sizes
iPod Cases 2 Music Notes in 3 sizes
Trays 1 Tiny Goldfish
Trays 2 Tiny Swan
Trays 3 Tiny Dolphin
Tray 4 flower
Motorhome Frames small motor home
Fancy Letter 1 sample

Boxes 1 scroll heart
Jumbo Mittens 1 Large Snowflake
Jingle Collars 1 Applique Dog bone with bow
Jumbo Bunny 2 heart and flower
Bert the Bear teeny tiny shamrock
Rosie & Bessie small flower square
Jumbo Teddies 2 bear paws
Frog Hug-ums rocking horse
Bear Hug-ums heart and bow
Bunny Hug-ums tulip
Doll Hug-Ums 4 appliqué heart
Ginger Hug-Ums 5 small gingerbread man
Baby Bears 4 heart & flower scroll
Lily the Ladybug scroll circle frame
Pudgies 4 holly leaf
Pudgie Peeps 2004 Egg #1
Mr. Mrs. Scarecrow flower patch
Mr. Turkey wishbone in three sizes
Jumbo Bunnies 1 tiny fringe carrot
Abby Doll diaper pin
Tilly Turtle bow and flowers
Buffy The Butterfly butterfly
5x7 Spiders 1 small black widow spider
Dolls 5 2002 egg 2
Elfie plaid moose
Lisa Doll moose head with button stitch antlers
Bean Bag Bunny 1 2002 egg 1
Stuffy Bears 1 Patriotic bear pin
Stuffy Bears 3 2002 egg13
Baby Bears 1 2002 egg 8
Baby Bears 2 2002 egg 9
BabyBears 3 2002 egg 10
Stuffy Cats 1 2002 egg 7
Stuffy Puppies 1 2002 egg 3
Baby Bean Bag Bun 2002 egg 4
Pocket Bears moose welcome sign
Pudgies 1 ants
Pudgies 2 ghost and pumpkin pins
Pudgies 3 2003 egg 4
Jumbo Teddies pink ribbon
Cases Index melting snowman coaster