WIPES COVERS 1
5x7 hoop
This set will make a cover for some of the moist wipes packages. There are two versions in this set. One has a front flap that closes with Velcro. The second version leaves the package lid exposed for ease of use. See below for details about the packages these will fit.
Be sure to see Wipes Covers 2
Version 1 has a front flap that is closed with Velcro to hide the package lid.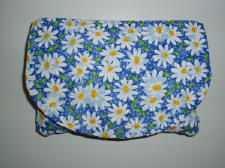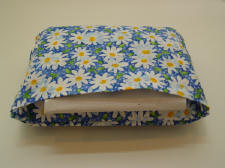 Front of cover and the back showing the pocket in the back.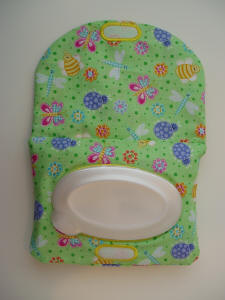 Use printed fabrics for really quick covers. The one on the right shows the oval opening. The flange around the lid opening fits inside of the opening holding the package securely and allowing for the lid to open and close easily.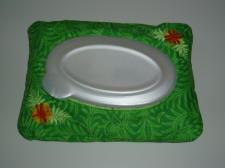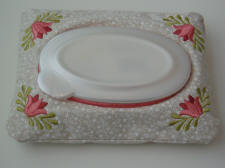 Version 2 does not have the front flap for quick access. I have included some with designs to get you started. Blanks are included so you can add design you may already have in your collection.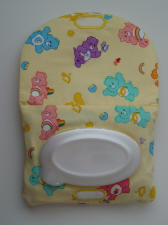 A discreet way to carry moist bathroom wipes.
Which Wipes packages will fit?
There are different sized packages of wipes on the market. This cover will fit the smaller size packages.
I found that most of the plastic openings on the different brands of wipes are the same size. This cover fits lids that are 2 ¾ x 4 ¾". This seems to be a standard size for most.
These are three that I found.
Kleenex-Splash N Go 35 wipes 8.5 x 5.5"
Cottonelle-Fresh flushable moist wipes 33 wipes 7.25 x5.25"
Huggies-Clean Team 42 wipes 7x5"
Click on the pictures above to see detailed pictures of the packages that these will fit.

Click on the flower above to download a sample design.
---
---